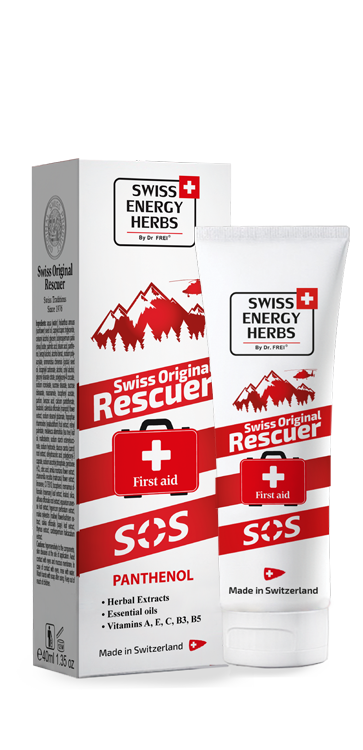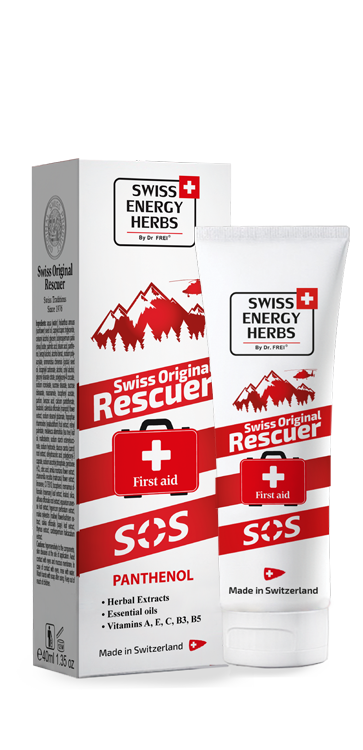 INDICATIONS
Its unique rich 100% natural composition guarantees fast wound healing, antibacterial and anti-inflammatory effect. It can be used for treatment of various irritations, skin rashes and acne. ORIGINAL SWISS RESCUER is irreplaceable in every house in case of minor wounds, abrasions, bruises, thermal and sunburns!
SWISS ORIGINAL RESCUER:
• Possesses wound healing effects.
• Improves blood circulation at the site of application.
• Stimulates tissue regeneration
• Has anti-inflammatory and antiseptic effect.
• Helps soothe skin and relieve irritation.
ACTIVE INGREDIENTS
Alcohol, Glycerin, Balloon Plant, Bisabolol, Vitamin E (Tocopheryl Acetate), Vitamin B5 (Calcium Pantothenate), Vitamin B6 (Pridoxin), Vitamin C (Sodium Ascorbyl Phosphate), Jojoba Oil, Carrot Extract, Sunflower Seed Oil, St. John's Wort Extract, Marigold Extract, Sage Extract, Althaea officinalis extract, Mallow Extract, Horsetail Extract, Thyme Extract, Shea Butter, Arnica Extract, Chamomile Extract, Tea Tree Oil, Sea Buckthorn Fruit Oil.