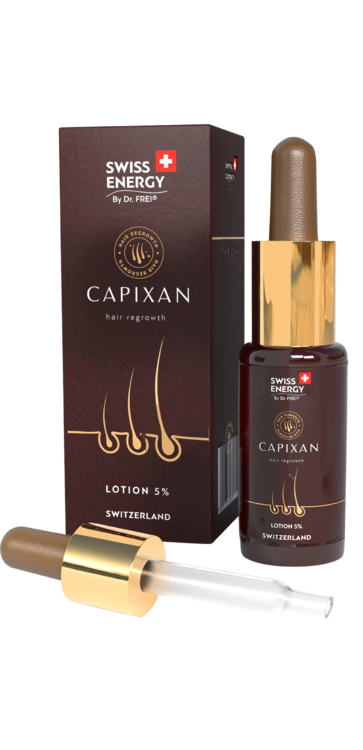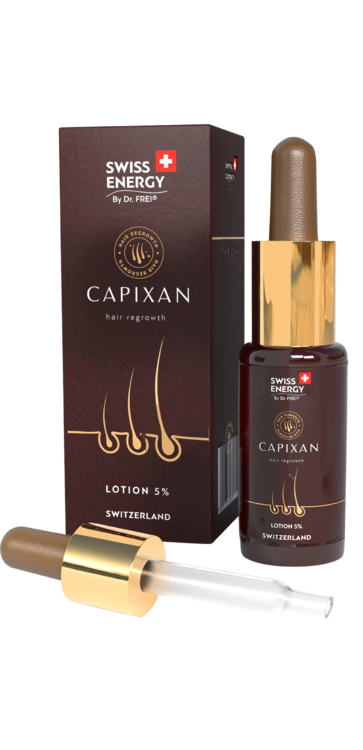 INDICATIONS
Capixan Lotion contains the active ingredient Capixyl™.
Capixyl™ is a combination of two ingredients:
- Biochanin A
- Acetyl tetrapeptide-3

Clinical studies have shown that Capixyl™ is the best protection against dihydrotestosterone (DHT) and inhibits 5-alpha reductase, the main cause of hair loss.
Key results such as increased hair growth, reduced hair loss and stronger hair are visible after just a few weeks with regular use.
Biochanin A
Active ingredient derived from red clover. It is an effective inhibitor of 5-α-reductase (types I and II), thus modulating the conversion of testosterone to DHT in androgenetic alopecia.
Acetyl tetrapeptide-3
The peptide contains 4 amino acids and stimulates tissue remodeling. Acetyl tetrapeptide-3 has a direct effect on the hair follicle, increases its size, helps to better fix the hair and enhances its vitality.
Caffeine
Provides hair growth by increasing blood microcirculation in the scalp, thereby increasing the nutrition of the follicles with essential substances.
Nettle extract
Nettle is an effective remedy for improving hair health. Its unique composition includes a large amount of formic, folic, acetic acid, valuable essential oils, natural chlorophyll. Nettle also contains vitamins C, B2, beta-carotene, calcium, magnesium and iron. Nettle perfectly strengthens the hair roots, protects them from falling out, eliminates the increased oiliness of the scalp, itching and dandruff, restores the hair structure and stimulates their growth.
Tea tree oil
It has strong antiseptic, antifungal properties and helps fight dandruff. Effective against hair loss. Allows you to normalize the balance of oily scalp. Goji berry extract strengthens hair follicles, improves blood circulation in the scalp, prevents the appearance of gray hair and thin hair. Due to the high content of minerals, the hair becomes more elastic, protected from aggressive environmental influences. Prevents hair loss.
Bamboo extract
Bamboo is one of the richest natural sources of silicic acid. Silicon is essential for healthy hair. Bamboo leaves contain flavonoids, which have antioxidant properties and neutralize free radicals. The antiseptic properties of bamboo extract help to cleanse the scalp and regulate the skin-fat balance, which, gives lightness and volume to the hair.
ACTIVE INGREDIENTS
- Capyxil®, 5% (Acetyl tetrapeptide-3 + Biochanin A)
- Caffeine
- Hyaluronic acid
- Nettle extract
- Tea tree oil
- Bamboo extract
- Goji berry extract
- Vitamin E
DOSAGE
With increased hair loss, use daily 1 time per day.
Then 3 times a week.
Apply Capixan Lotion to dry scalp or after washing and gently massage into scalp.