Ingredient glossary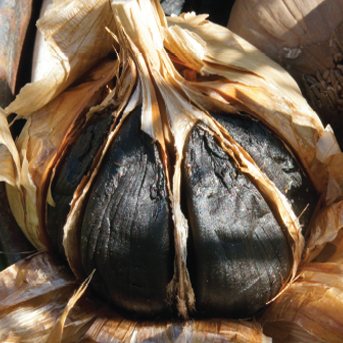 Black Garlic
Black Garlic benefits
Contribution of normal cholesterol level
Nutritionists have long believed that garlic is healthy for the heart working and reduce the cholesterol levels in the bloodstream. One such study has been done in 2014 and the results show that taking black garlic extract for 12 weeks can decrease LDL (or bad cholesterol) and increase the HDL (or good cholesterol).
Contribution of normal blood pressure level
Research indicates that garlic boosts circulation by increasing the production of hydrogen sulphide. Garlic contains numerous sulphur compounds that may be of benefit in maintaining healthy blood pressure levels and may also aid normal clotting. It is likened to taking low dose aspirin.
Contribution of normal blood glucose level
Garlic has been shown to be of benefit in normalizing blood sugar levels and it is thought that this is due to its ability to enhance insulin production and due to increasing of sensitivity to insulin.
Boost of immune system
Garlic stimulates white blood cell activity required by the immune system for fighting infections including colds and fungal infections including candida. In fact, some studies indicate that garlic fights infections that are often resilient to some antibiotics.
Strong antioxidant effect
A 2017 study showed that black garlic had more antioxidants that white garlic. These same antioxidants also protect cells from damage and delay signs of aging. This much antioxidant level can help prevent Alzheimer's, rheumatoid arthritis and similar chronic ailments.
Boost libido
It is proved that garlic enhances testosterone levels in both men and women suggesting that it may be of benefit to boost libido.
Fighting against infections
Garlic has potent antimicrobial properties and in the past it was used to treat cholera and dysentery. During the First World War, garlic was used to treat battle wounds in the absence of antibiotics. Garlic has proven antiviral, antifungal and antimicrobial activity. It contributes to prevention of infections and cold.
Swiss Energy

Products containing Black Garlic