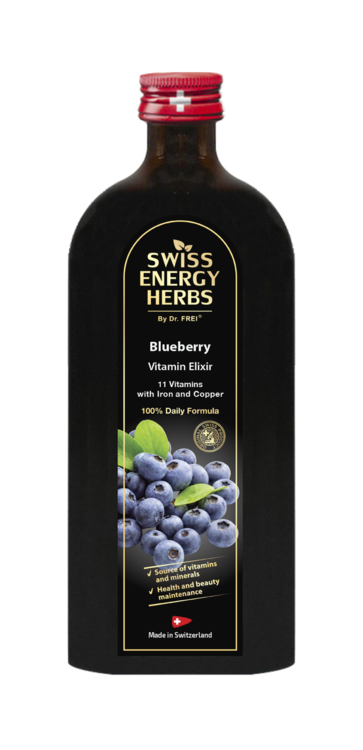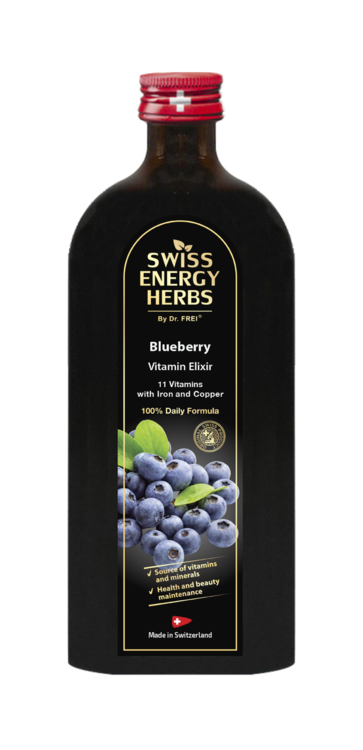 INDICATIONS
Vitamin Elixir Blueberry is a source of natural origin vitamins, minerals and active substances for support of general health and active lifestyle. Blueberries can help heart health, bone strength, skin health, blood pressure, diabetes management. Only 10 ml of Blueberry Vitamin Elixir provides 100 % of a person recommended daily allowance of vitamins. Blueberry has a powerful antioxidant effect. Many studies have suggested that increasing consumption of plant foods such as blueberries decreases the risk of obesity, diabetes, heart disease, and overall mortality. Plant foods may also promote hair and skin health, increased energy, and overall lower weight.
Source of natural origin vitamins and minerals
Health and beauty maintenance
ACTIVE INGREDIENTS
Blueberry juice, lemon juice, pollen extract 1 %, vitamins (vitamin C, niacin, vitamin E, pantothenic acid, vitamin B6, vitamin B2, vitamin B1, vitamin A, biotin, vitamin D, vitamin B12), iron gluconate, copper citrate. Fruit juice content 74 %.
DOSAGE
1 tablespoonful 2-3 times per day before meals. Corresponds to 25 ml/day.