27.01.2020

Swiss Energy at Arab Health 2020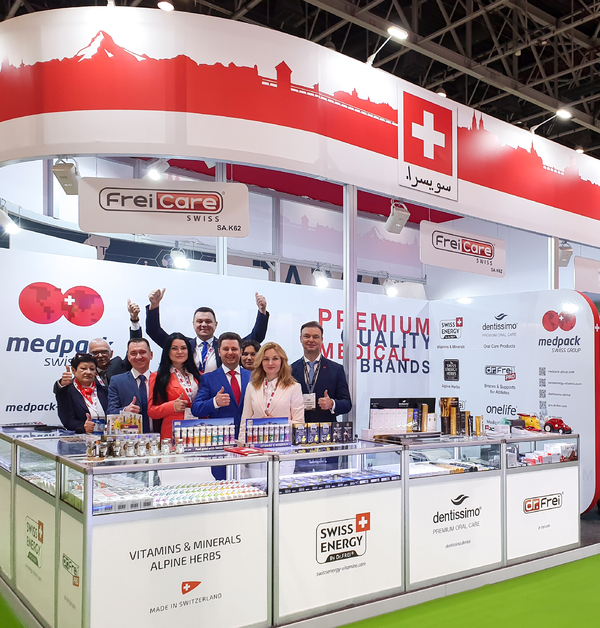 From 27 January till 30 January 2020, the Medpack Swiss Group company takes part in the international exhibition Arab Health 2020, which takes place at the Dubai World Trade Centre, Dubai, UAE.
The largest exhibition of healthcare product manufacturers and service providers opened its doors on January 27! 4,250+ companies coming in from 64+ countries that will be showcasing the latest healthcare technology, products and services.
The Medpack Swiss Group company is constantly expanding the range of Swiss premium products providing partners with high-quality products for health. This year, in addition to the main assortment, we present the new product groups.
The following products of the Swiss Energy® are presented to the visitors at our booth:
- capsules with a sustained release of active ingredients, which contributes for a more complete assimilation of nutrients;
- a wide range of effervescent vitamins;
- chewing gummies for healthy growth, development and strengthening of the immune system of children;
- lollipops based on herbs, made according to the original Swiss recipe;
- encapsulated black garlic;
- new range of encapsulated Omega-3. Our innovative formulations promote the health and function of a variety organs and immune system;
- chewing gummies for adults, this is a multivitamin complex for maintaining health and activities;
- herbal balms which are based on a unique complex of carefully selected herbs and vitamins, that have a protective and soothing effect on the skin.
We look forward to meeting you at Arab Health 2020 at booth SA.K62, January 27 - 30.
Best regards,
Swiss Energy team